In the previous blog, I shared how students can personalize a physical writer's notebook. This blog is about how students can create and personalize an Online Writer's Notebook using Google Docs.
Step 1. The teacher should send each student a Google document with their name as the Google doc's name. For example, Student name – Online Writer's Notebook. This way you will already have their online writer's notebook and it will be easy to find the students' work once they start working.
Step 2. Show students an example of the first page of an online writer's notebook. This will be the "cover" for their notebook.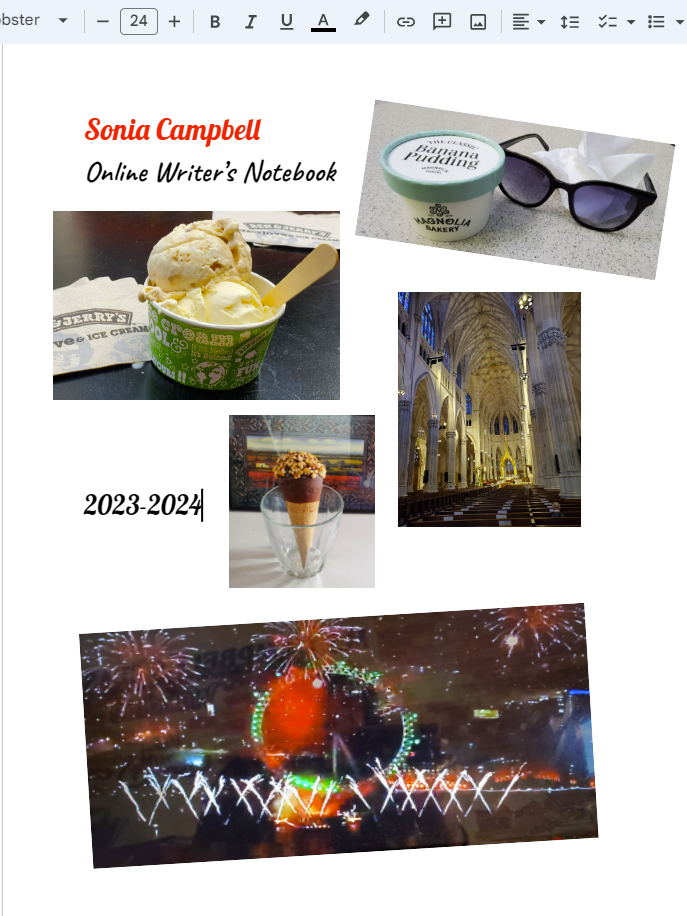 Step 3. Have each student open their Google document. For this step, students will become familiar with the Google tool bar. You may want to demonstrate the tools that will be most helpful to them for this activity.
I recommend showing them . . .
How to access different fonts
How to change type size
How to bold letters
How to change letters to italics
How to underline words
How to change colors
How to undo/redo words or images
How to align text and images
How to insert images
How to move images
Step 4. Very Important – As students will probably get images from the internet, be sure to check with your school's media specialist for approved websites where students can get images that are not copyrighted. You want to avoid copyright infringement. This is also a good time to explain copyright Infringement to your students.
Step 5. Students will design their own Online Writer's notebook covers. Encourage students to play around with different images, fonts, and colors. This can be a fun time!
This activity can be done in 1 – 2 sessions depending on how well students can navigate the tool bar, their chosen images, and their design ideas.
Physical Writer's Notebook vs Online Writer's Notebook
| | | |
| --- | --- | --- |
| Concerns | Physical Writer's Notebook | Online Writer's Notebook |
| Students keeping up with their notebooks. | Students can carry their notebooks with them, but they have more of an opportunity to forget them or lose them. | + Most of the time students will have their Online Writer's notebooks as they are using their laptops all the time. |
| Ease of checking students work. | Students must turn in their books to the teacher. | + The teacher has instant access to all students' work. |
| Timely feedback. | For specific feedback, at a specific time, all books must be collected. | + The teacher can give quick feedback using the comment feature in Google Docs. |
| Changes in student writing. | + The student can use multiple pages to draft, develop, and edit ideas. They will be able to look back and see how their writing developed over a period of time. | Students will make changes (develop, edit, etc.) to one document. Once they have deleted different parts of their writing, they have no way seeing how they improved their writing. |
| Grammar and Spelling | + Students will have to demonstrate in their writing their understanding of grammar and spelling. This gives a true picture of where the students need help in these two areas. | Google Docs will autocorrect spelling and grammar. This can be turned off, but most students will probably know how to turn in back on. |
As the teacher, you will have to decide which approach best meets your teaching style and your students' needs. You may decide that your students will use physical writer's notebooks and online writer's notebooks because each will be for specific assignments.
Happy Creating!
Sonia